Committee Jurisdiction includes California High-Speed Rail Authority, California Highway Patrol, California Transportation Commission, Department of Motor Vehicles, Department of Transportation (Caltrans), driver's licenses, freight, regional transportation agencies, transit authorities, intercity rail, mobile sources of air pollution, fuels, rules of the road, state highways, local streets and roads, vehicles, aircraft, bicycle and pedestrian facilities, and vessels.
The Transportation Committee is located in the Legislative Office Building, 1020 N Street, Room 112 and the phone number is (916) 319-2093.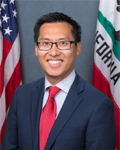 For information on how to submit a position letter please see the directions below:
Advocacy Quick Reference Guide

Important COVID-19 Information
The public will have the ability to participate in committee hearings by offering comment in the following ways:
The Capitol will be open for attendance of this hearing; however, due to guidance on physical distancing, seating for the hearings will be minimal for the press and public. In-person attendance is not recommended. All are encouraged to watch the hearings from their livestream on the Assembly's website at 

https://www.assembly.ca.gov/todaysevents

.
Written testimony before the hearing via the position letter portal. Please note that any written testimony submitted to the committee is considered public comment and may be read into the record or reprinted.